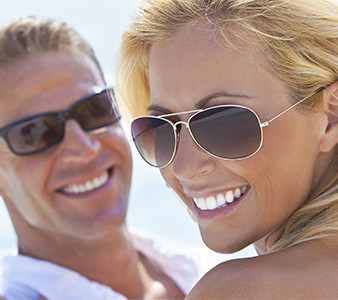 ThermiRF is the first FDA approved aesthetic device which uses radio frequency waves to treat a variety of cosmetic conditions.  Applying the "Science of Heat", our ThermiRF devices can stimulate collagen production or even melt unwanted fat.  These procedures can tighten skin, reduce wrinkles, remove fat or even disable nerves which cause frown lines as a long-term alternative to Botox injections.
Both ThermiSmooth and TruSculpt are non-invasive skin surface treatments performed by our Aesthetician.   ThermiTight and ThermiRase are minimally invasive treatments using a probe beneath the surface of the skin and will be performed by Dr. Hiranaka.
TruSculpt
TruSculpt is a breakthrough, non-invasive technology to help remove unwanted fat. Using RF energy, TruSculpt recontours the body by targeting and disrupting specific pockets of fat cells. The RF energy creates heat in those cells without harming the skin surface. Once broken up, the fat dissolves and eventually leaves the body.  It also stimulates the production of collagen, a protein that gives skin elasticity and structure, helping to tighten skin and smooth fine lines and wrinkles.
ThermiSmooth
ThermiSmooth is a non-invasive skin smoothing procedure for precise smoothing of the delicate skin especially around the face and eyes. Mild facial wrinkling, texture issues and early laxity can be improved over a course of 3-4 treatments.  Areas most commonly targeted include the forehead, eyelids, under the eyes, jaw line, chin, neck, upper and lower lips.  ThermiSmooth treatments are gentle and patients often say it feels like receiving a warm massage.
ThermiTight
ThermiTight is a minimally invasive treatment designed to non-surgically tighten skin on the face and neck through the employment of radio frequency energy. Dr. Hiranaka offers this innovative skin tightening treatment as an effective solution for patients seeking a less invasive option for their rejuvenation needs.  Some other distinct advantages include:
Its ability to target deep tissues in a controlled manner, leaving surrounding skin and tissues unharmed.
Its ability to stimulate new collagen growth, which can lead to the continuous improvement of skin laxity over time.
Its ability to produce noticeable results immediately with little to no downtime.
ThermiRase
ThermiRase is a new, FDA approved procedure for nerve ablation of the vertical 11′s between the brow. A radio frequency probe is inserted through a tiny needle type hole, placed against the nerve, and the nerve ablates. This treats the same nerve which Botox would be used for to inactivate the glabellar region.
Current studies show two years post treatment show that 85% of the patients treated with this modality still do not have sufficient muscle movement to warrant another application or a Botox treatment. This treatment is more complex and costly than a Botox injection, but in the long term can be more cost effective and will minimize the need for frequent Botox injections. Before this treatment was developed, there was a need for a longer lasting, quicker acting, non-toxin alternative to Botox.