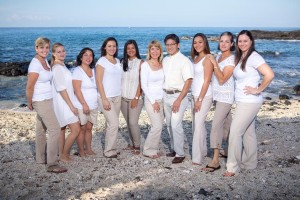 Dr. David K. Hiranaka has been practicing in Kailua-Kona since 1994 with the objective of providing comprehensive, quality maxillofacial, facial plastic and reconstructive surgery care to the residents of Kona, Kohala, Waimea and the entire Big Island of Hawai'i. The practice has grown to attract patients from the entire state of Hawai'i as well as from the mainland.
Dr. Hiranaka introduced many advanced techniques and state-of-the art technologies to the Big Island. He was the first to perform CO2 laser skin resurfacing beginning in 1995 and endoscopic brow-lifting in 1997. His practice introduced microdermabrasion to the Big Island in 1998 and was the first office in the state to offer the long-pulsed Nd:YAG laser for hair removal in the summer of 2000. Other recent technologies have included non-ablative laser skin therapy, Intense Pulsed Light (IPL) therapy for pigmented lesions, vascular laser treatments, photodynamic therapy (for sun-damaged skin) and the Titan infrared light treatment to non-surgically tighten skin.
Since the inception of his practice, Dr. Hiranaka has safely performed thousands of aesthetic and reconstructive procedures on both adults and children.
Dr. Hiranaka and his staff are dedicated to providing the highest quality of care related to functional and aesthetic surgery of the face, jaws and related structures.
Community Service
Dr. Hiranaka believes in community service and supports such causes as Rotary International (past president of the Rotary Club of Kona Mauka), Kona Community Hospital Foundation, Daniel R. Sayre Memorial Foundation, Kona Historical Society, Special Olympics, American Cancer Society's Hope Lodge, PATH, (Peoples Advocacy for Trails Hawaii), Hawaii Island Food Basket, Waikoloa Dry Forest, King Kamehameha Day Celebration Parade, ARC of Kona, Family Support Hawaii, Kona Japanese Civic Association and the Hawaii Island Humane Society.