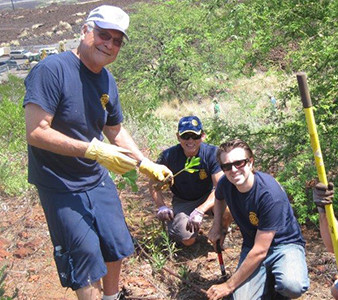 Dr. Hiranaka believes in community service and supports such causes as Rotary International (past president of the Rotary Club of Kona Mauka), Kona Community Hospital Foundation, Daniel R. Sayre Memorial Foundation, Kona Historical Society, Special Olympics, PATH (People for Active Transportation Hawaii), Hawaii Island Food Basket, Kona Japanese Civic Association and the Hawaii Island Humane Society.
Dr. Hiranaka is a volunteer board member for the senior leadership team serving Kona Community Hospital and Kohala Hospital on the West Hawaii Regional Board of Directors.
Rotary provides many opportunities for Dr. Hiranaka to help the community, both locally and globally.  Some local community service work include the planting of 100 trees that provide shade, fruit and flowers for lei along the Queens Lei walking/running path, the creation of Little Libraries in our community, conducting vision screenings to third graders in our community, helping to raise over $55,000 each year in order to provide scholarships to Kona's college bound seniors and support various community projects.
.